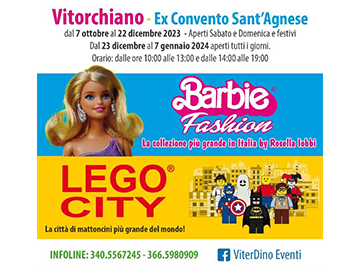 BARBIE FASHION AND LEGO CITY
da Saturday 07 October 2023 a Sunday 07 January 2024
FORMER MONASTERY OF ST. AGNES
ViterDino Eventi presents Barbie Fashion the largest collection in Italy by Rosella Iobbi and Lego® City the world's largest brick city.
In the awesome location of the Ex Convento di Sant'Agnese 2 exhibitions unique in the world and Vitorchiano will become a huge village of colours and bricks.
Barbie Fashion directly from the largest collection in Italy by Rosella Iobbi, who is exhibiting a unique, colourful and full of joy collection that will make women dream and why not men too will enjoy admiring unique masterpieces. A great passion for the world's most famous dolls world's most famous dolls, so much so that they were exported to Jordan, Moscow and even to a fashion show on a cruise ship in Corfu! cruise ship in Corfu! Passion for Barbie began as children, the Barbies in this collection all come from the United States and are very limited edition pieces, some of them unique! There will be over 600 incredibly finished pieces, to be lost with the eyes!
"Lego® City" is the largest city built with Lego® bricks in the world, is one of the largest largest dioramas based on the theme of the city as a theatre of everyday life: a four-metre wide by fifteen-metre long project metres wide by fifteen metres long that houses a city built entirely with over seven million LEGO® bricks, all part of a private collection. The special feature? The detail. Each city has meticulously furnished, lit and inhabited interiors: you don't stop at first appearances but have to scrutinise every appearance, but it is necessary to scrutinise every corner, every crevice and multiple spaces because each one holds a curious story to be discovered and told. One can thus admire the most famous, but also the rarest LEGO® Modular Building collectors' pieces. A separate chapter the characters that populate the city, especially the most famous superheroes, Batman, Wonder Woman, Spiderman and others. Woman, Spiderman and others animate the different parts of the city: from the funfair to the restaurant, from the toy shop to the amusement park, and amusement park, the train station, the cinema and the shopping centre.
With a single ticket, therefore, you can admire two exhibitions and... be a child again!
But the surprises will not end here, which is why the invitation is to follow the Facebook page ViterDino Eventi.
From 7 October to 22 December 2023 Open Saturdays, Sundays and holidays.
From 23 December 2023 to 7 January 2024 Open daily.
From 10 a.m. to 1 p.m. and from 2 p.m. to 7 p.m. (last admission 6.30 p.m.)
CHILDREN UNDER ONE METRE TALL WILL ENTER FREE OF CHARGE
REDUCED TICKET FOR THE UNDER-14S
All news and info on Facebook ViterDino Eventi viterdino.eventi@gmail.com
info Line: tel. 3405567245 - 3665980909 ViterDino Eventi
Genere: -Mostre [71]
Organizzatore: VITERDINO EVENTI SRLS